MTP-5H
microwave radiometer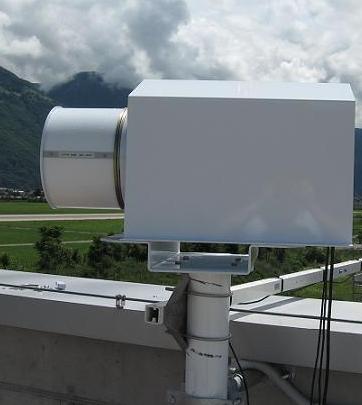 MTP-5H is the original member of the family. It makes measurements up to 1000 m above the instrument and gives the same performance in all weather conditions. It is compact and operates from 12 VDC (a bench-type AC-DC power supply unit is included). The rotating scanner assembly is protected by a special cover that has very good transmission. The cover sheds precipitation and allows compensation for dirt during the self-calibration. A high accuracy ambient temperature sensor forms part of the self-calibration system. A mounting frame is included, and cables for the temperature sensor, power and RS 232 data communication to a PC (not included).
Typically temperature inversions that cause bad air quality events occur well below 1000 m, if they are higher than this there is not normally a problem.
Altitude resolution is 50 m and the temperature accuracy is 0.2o C to 1.2o C or better. The field of view is a 3o cone. The only routine maintenance is to periodically clean scanner cover. MTP-5H is ideal for use in urban environments and at airports and operates from -40o C to +50o C.
microwave radiometer
Main characteristics
| | |
| --- | --- |
| Altitude range | 0 to 1000 m |
| Displayed height interval | 50 m |
| Altitude accuracy | 25 % |
| Minimum measurement interval | 180 s |
| Temperature accuracy, RMS | 0.2o C to 1.2o C or better |
| Receiver sensitivity | 0.04o C |
| Power requirements MTP-5 | 12 VDC / 120 W |
| Operating temperature range | -40o C to +50o C |
Dimensions